This is a pretty common question with few answers on the web, so we are here to help. To begin, let's clarify what a Food Handlers card is: A Food Handlers card (also known as a Food Handlers Permit, Licence, Certificate, or Certification) is the result of a food safety training program that teaches you the basics of food safety, tests your knowledge, and gives you a certificate of completion upon passing.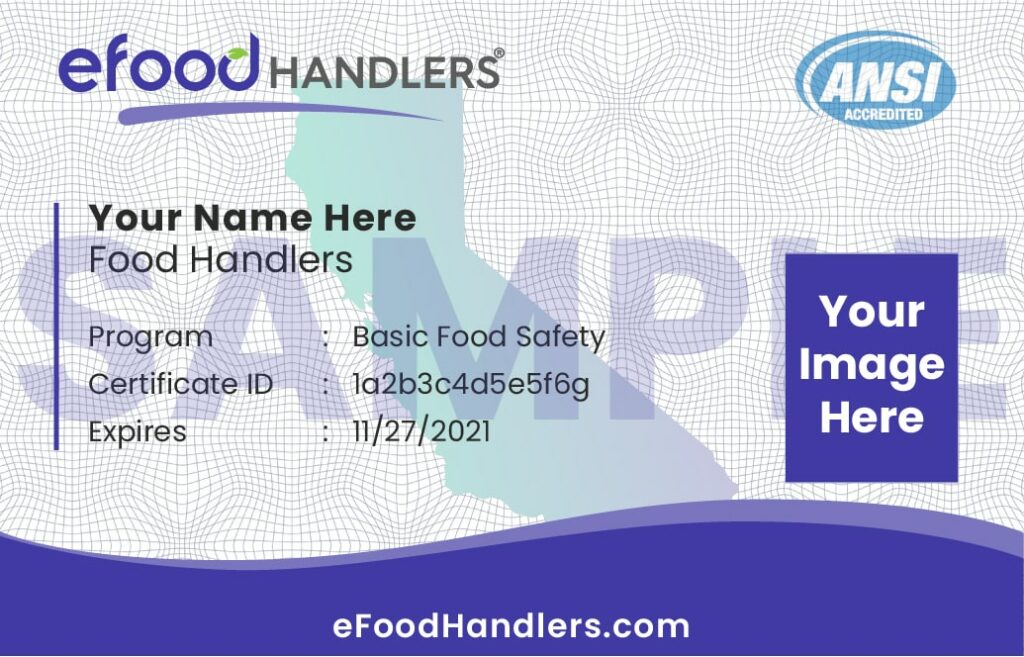 There are many jobs that require a Food Handlers Card but there tends to be little direction on what, why, and how you should go about obtaining one. We know that it can feel time-consuming and expensive, but we want to help you understand the value of the investment beyond the reason you need it. Here is what we will cover:
Who needs a food handlers card?
Why do I need a food handlers card?
Is a food handlers card required?
How long does it take to get a food handlers card?
How much is a food handlers card?
Is a ServSafe the same as a food handlers card?
Who needs a food handlers card?
Anyone working in the food and beverage industry is a safe answer, but it's more complex than that. Every state and some specific counties have their own rules and regulations. Some states like California require everyone to have a Food Handlers Card, where Hawaii doesn't require them.
However, food safety is a safe practice whether it is a requirement in your state or not. If you don't want to go through the training but what to learn a few tips and tricks to follow in your own home, check out our blog on foodborne illnesses and proper handwashing.
Why do I need a food handlers card?
You learn a lot more than just how to handle food safely. We go over everything from the time and temperature to cook certain foods, to how to wash and sanitize utensils, dishes, and even your hands correctly. There is a lot of information in the program that you will come to find is incredibly important for your safety and others around you that you didn't even know!
Is a Food handlers card required?
As we briefly mentioned in the 'who needs a food handlers card' section, the answer varies from state to state. If you are being asked by your employer to get a food handlers card, the answer is likely yes, it is required. If you are hoping to get one preemptively (prior to getting a job), although we strongly urge people to get a food handlers card because it can increase your chances of being hired for a food service job, you should contact your local health department official to ask what the rules and regulations are for your county.
How long does it take to get a Food Handlers Card?
2 hours. That's it. We have about 60 minutes of videos with a few training questions in the middle to prep you for the test, and then you can take the 30 question test at your own pace. To top it off, if you don't get a 70% or higher your first try, we let you retake it for FREE.
How much is a Food Handlers Card?
It starts as low as $7.95. However, if you cannot afford the Basic Food Handler Program, we have a scholarship option that is a FREE 1-year official ANSI-Accredited certificate. How is it FREE? Because we care. If being able to afford a food handlers card is preventing you from getting a job, we are here to help, not stand in the way. If you feel this is your situation, please click here to head to our scholarship page.
Is a ServSafe the same as a Food Handlers card?
ServSafe is a brand name, just like Tissue is a brand name for the things we use to blow our nose, and Q-Tips are things we use to clean our ears. In short, yes, they are the same thing, but ServSafe is just the brand name of the training and certificate program that you are looking for. In fact, people have started to use the name ServSafe interchangeably with different food certifications making it a bit confusing.
There are two types of certificates that you can get in the food space: A Food Handlers Card or a Food Managers Card. We offer both, and so do other brands. What you really need to look for to make sure you are getting an official certificate, however, is not in the name of the training, but if the company is ANSI-Accredited and approved in your state.
I am sure there are many more questions, so we are happy to help. Our Award-Winning Customer Support and Live Chat have your best interests at heart. Please reach out to them with any questions you may have and we will do our best to guide you in the right direction. Best of luck!